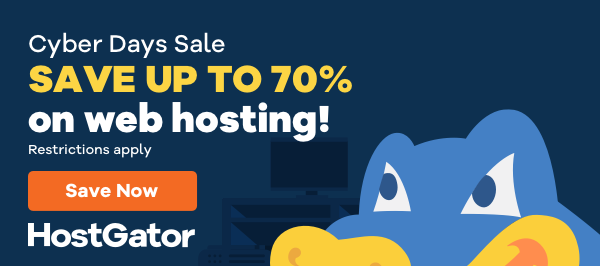 Here's what they had to say:
The CYBER HOLIDAYS are Right Around the Corner!

It's that time of year again! The Cyber Holidays are right around the corner and we've got a sneak peek at what we'll be offering this year.

November 27th at 12:00 PM CST through Tuesday, December 3rd at 11:59 PM CST. This means you get the get the special sale offer of 70% off select plans † and free domains* during the ENTIRE PROMOTION! You will either be matching our flash sale price or have a 5% advantage over our Up To 65% off sale offer.
promo code: CYBER2019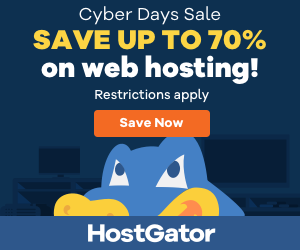 * This offer is only valid to new customers on Shared, Cloud, Optimized WP, and Reseller hosting packages, and Gator Website Builder packages of 12 months or longer.
Not applicable on renewals or existing plans.
*Free domain registration on .com, .net, & .org domains only. Available to new customers on shared, cloud and WordPress hosting packages of 12 months or longer.